Click photos to enlarge:
Previous Image
Next Image
Avid gardeners and consummate hosts, the homeowners highlighted here had very specific requirements for the home they wanted.
When buyers know exactly what they want, it's always a great place to start. "To make the search less daunting and more focused, John had us draw up a list of must-haves," says one of the homeowners. Two pages of bulleted items was the result. High up on the priorities were good bones and bucolic setting. Hard-to-find specifications included double staircases like those in larger, grander domains, but in a smaller, more affordable house; old world charm that would hold up next to contemporary updates; and close to civilization, but with no neighboring houses to block the views. "These were pretty tall orders," remembers John.
Half a dozen towns, over a dozen houses and months later, he knew he had found the right place. "When we walked onto this property and looked out over the abutting conservation meadowland flooded with afternoon sun, I took a mental note: Bucolic setting? Check," laughs the homeowner.
The house, on the other hand, required vision. The early 19th century center-entrance Colonial had seen better days, and was in a state of disrepair. An awkward layout placed a bathroom between the living room and outdated kitchen, impairing the view to the vista beyond. Linoleum masked hardwood flooring. "Friends and contractors who came to help us assess the place asked what we saw in it," quips the homeowner.
To begin, the house had high marks for curb appeal and old-world charm. Nine-foot ceilings and double French doors from a welcoming porch helped. It was just the right size; not too big for busy professionals to upkeep, but big enough for everyone to have elbow room. Underneath it all, it had good bones. But the pièce de résistance? Double staircases. With that rare feature found, every last item on the homeowners' list was checked off.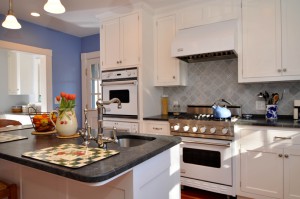 Phase I of the renovations was the reconfiguration of the kitchen and surrounding areas. By claiming space opposite to the original bathroom, the homeowners were able to flip the bathroom to an inner area, freeing up footage not only for a marbled baker's station overlooking the meadow, but also a bonus mini-mudroom replete with coat racks, crevices for hats and mittens in baskets, and a one-stop key and device shelf.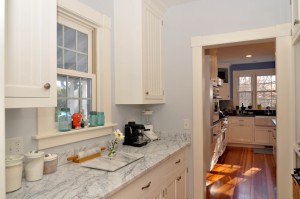 The kitchen melds painted wood cabinets with natural wood accents, as well as black granite tops for a custom look that is unmistakably modern. The blue tumbled carrera marble backsplash with mini delft-like floral tile insets and the bold focal point of the kitchen's bead-board china cabinet backdrop not only echo the brilliant blue walls but also pay respect to the house's history and bygone eras.
No space is wasted. The revamped "butlery" between the kitchen and dining room serves triple duty: a sun-drenched workspace, a carefully planned closet and a recessed stock-cabinet bar. In the dining room, the butlery's bar cabinets are repeated, in what was once a closet, to store china and supplies for gatherings.
Whenever there is renovation involved, the question utmost on people's minds is, "What's the Return on Investment." By focusing on what was near and dear to their hearts, these homeowners have done well by investing in reconfiguring for a more efficient workflow and by taking full advantage of the property's assets. They've also added value by using every nook and cranny. By choosing simple, yet tastefully sophisticated solutions, they are maintaining the house's character and charm while bringing it into the 21st century. "They have managed to distribute their renovation funds and spread wow factor throughout the house so that in every room you see delightful yet practical details," concludes John.
Both homeowners agree, "We get so much satisfaction in taking an uncut rock and chiseling it into a gem. But the greatest return is in the daily joy. This house is truly an oasis."